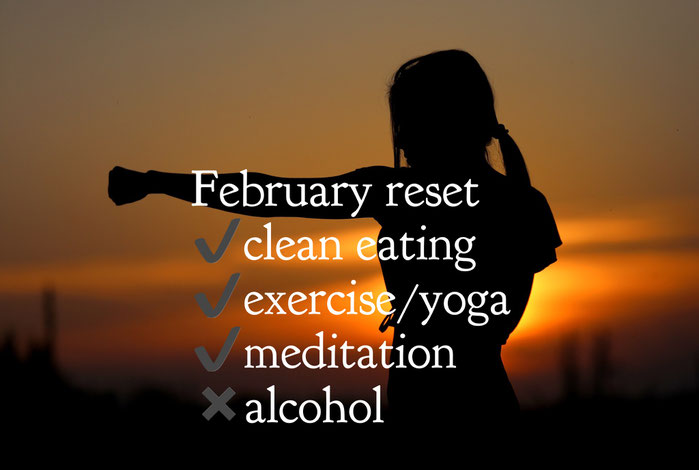 This February I decided to do a reset – create some healthy new habits and stop a few things that weren't good for me.
So how did it go?
I would score myself:
Clean eating           07/10
Exercise / yoga      07/10
Meditation              06/10
No Alcohol              10/10
What did I do?
In February I avoided all alcohol and ate a fish and vegetables diet. I reduced my sugar intake and even stayed away from chocolate. I exercised or did yoga most days. I didn't succeed with a daily meditation, but would have meditated more days than not – I also tried out some new meditation styles – Osho's Kundalini and Sahaja Yoga. I found Sahaja Yoga especially useful as it is something that you can do in 10 minutes that really does have a big impact on being centred, present and aware.
What did I notice and learn…
About being alcohol free and meat free…
Being alcohol free was not so hard – it "just" took will power and determination.

 

Eating "cleanly" was a bit more of a challenge – I missed my sugar fixes and gave into temptations when out with friends.

In films and series there is ever-present alcohol placement – when you're not drinking alcohol you're more aware of the not so subtle impact this has.
In social situations I drank alcohol free beer – in Germany its available practically everywhere, tastes good, and doesn't make a big statement.
Many restaurants have meat free options, although fewer cater for the true vegan diets.
There are lots of great healthy recipes – I did quite a lot of my own cooking and got pretty enthusiastic about making good tasting healthy meals.
About exercising, yoga and meditation
When the weather gets VERY cold I find it harder to get myself out of the apartment and out jogging or to the fitness studio. It was easy to forget about meditation unless I reminded myself to do it - either by blocking or having a reminder. 
I found it easier to let things go without getting angry or frustrated and even if I did go to the dark side it only happened briefly. I laughed a lot more both at the world and at myself.
I'm integrating more meditation into my normal days and can see and feel the benefits.
Overall this was a good experience for me – I feel more present and self –aware – my brain feels clearer and cleaner (if that makes sense). I now am more aware of the impact of doing things that keep me healthy or not so healthy, and find that I am choosing healthier options more and more.
Dedicating a month to creating new patterns works well – research shows you need time to form a new habit if you want it to have a lasting impact. You can either start with one new habit or a group – I chose these 4 habits as, for me, they go together and reinforced each other.
What new patterns do you want to create, what do you want to start doing, keep doing or stop doing? When are you going to start this…? Why not today?
Enjoy the process
…..Chrys
PS if you'd like to talk to me about creating new patterns in your life please contact me at mailto:info@levelupcoach.eu